Kathy Phillips... is a BEAUTY PIE INSIDER
Written by Nicola Moulton
3 May 2023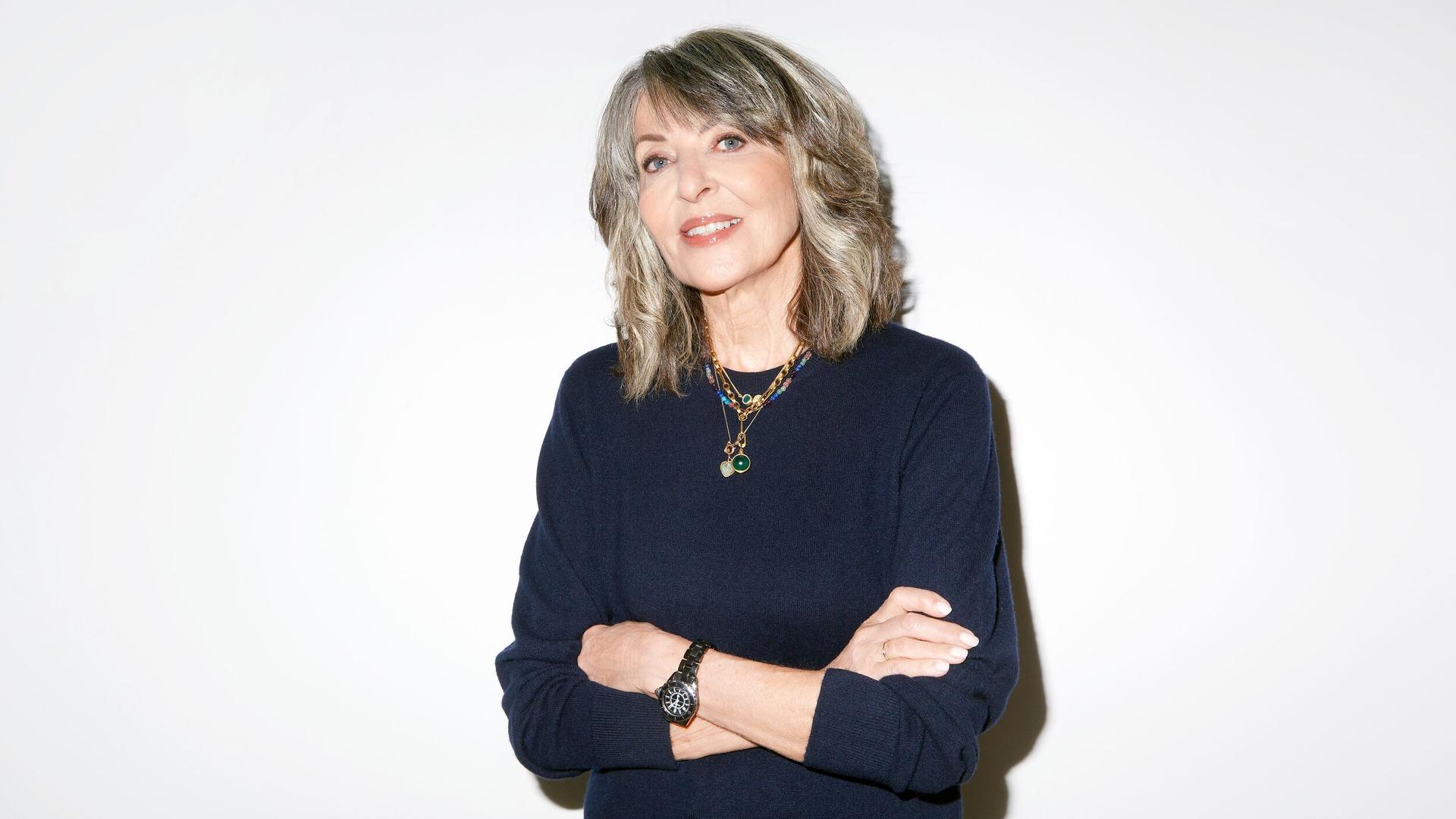 Kathy Phillips is the creator of our new range of aromatherapy bath and body oils - and a true beauty industry legend. She has written about beauty for many glossy magazines and newspapers and was the Beauty Director of British Vogue for seven years, as well as writing definitive books about Yoga and Blondes. She is also passionate about complementary medicine, health and fitness and a qualified yoga teacher. In 2004, she launched This Works, a range of high quality, aromatherapy-led skin and bodycare products which revolutionised the worlds of beauty and wellness with its ultra-modern approach to essential oil and we discover the tips she's learned.
This is her first collaboration with Beauty Pie. Here she answers our Beauty Pie Insider questionnaire - and we learn about the tips she's learned from the incredible makeup artists she's interviewed over the years, and how she was once rolled across the sand and into the sea as part of her weirdest-ever spa treatment. 
1. Describe your relationship with the world of beauty. Enthusiast? Novice? Fanatic?
Hmmmm…I'd say quizzical. Curious. Inquisitive. Sometimes cynical, sometimes enthusiastic.
2. Your biggest beauty 'lightning bolt' moment?
Meeting real innovators. It always makes you realise that there are still brilliant ideas out there. 
3. List the steps in your morning skincare routine in 10 words or less (we hope).
Love a flannel. (For morning cleanse) Niacinamide drops. Moisturiser. Foundation (and sometimes also moisturisers) with SPF. 
4. Beauty gadgets, yay or nay?
Yay - I love using a red light machine, for circulation and for general wellbeing. I really think light therapy is the future. And an electric toothbrush, of course.
5. Aging gracefully? Pro or NO?
I think disgracefully is more fun isn't it? But in reality I'd probably say aging actively. Regular exercise and a few weights.
6. From 1-10, how hot do you like your shower water?
Honestly? 8 to 9. I'm naturally quite cold, so I'm all about getting warm. 
7. Are you married to a particular fragrance?  
I don't wear perfumes, but I do wear essential oils (Patchouli and woody ones). And I do have a fondness for Sisley's Eau de Campagne but I tend to spray it on my clothes rather than on my skin. 
8. What beauty items are always 'on your person'?
A very small compact, because I don't like a shiny nose. A dark red-brown lip liner and a lip balm. 
9. Please share your most helpful makeup tip.  
I've had so many tips from great makeup artists over the years. Laura Mercier taught me to put eyeliner inside the waterline of your upper eyelid. It's incredible. It looks as if your eyes just have this natural definition. Trish McEvoy taught me to put blush a bit higher up on my cheekbones, which really works for me. And Alex Box taught me to put blush on the apples of my cheeks, not along my cheekbones. It just makes you look healthier. 
10. How do you get into the 'evening out' beauty zone? Bubble Bath? Killer smoky eye?
If I had time, it would be a 'Power Up' bath [one of Kathy's new aromatherapy bath oils for Beauty Pie]. We need to be thoughtful about the amount of water we use for sure, but we also need to bring baths back. And occasionally - a smoky eye. Definitely a kohl eye pencil. Or even a red lip! As you get older, I think a red lip can really light you up. 
11. Advice for your 16-year-old self?
Don't underestimate how lucky you are. You always think everything's wrong when you're 16, then you look back and think what was I worried about? 
12. Weirdest treatment you've ever had at a spa? 
I was rolled in sand on the edge of a beach and then rolled into the sea as an exfoliation treatment. In Utah I got covered in creosote by a shaman, which sounds bizarre but was actually quite special. 
13. How many pull-ups can you do in a row?
I don't know what a pull-up is and I'm not sure I want to know. I'm even pretty flaky on push-ups, let alone pull-ups. 
14. How would you break it to your hairdresser that you need something 'new'?
My hairdresser is quite bossy with me. He'd be the one telling me!
15. Supplements?  
Yes - have done for years. I take Vitamin D3, Omega 3,6,9, mushrooms, multivitamins and digestive enzymes. 
16. Your 'go-to' beauty birthday gift?
This Works Perfect Legs. 
17. Your beauty icons.
Martha Gelhorn, a foreign correspondent during the war who just always looked like she had other things to worry about than what she looked like, but always looked kind of beautiful. And - from a supermodel perspective - Christy Turlington.  
18. What's your 'I am totally crushing it' indicator?
If I'm having a good hair day. 
19. Must-Have Beauty Pie products? 
Superdrops Brightening Niacinamide (10%). The Uber Volume™ Boost mascara. The One Powder Wonder. And of course, I'd have to say my bath and body oils. 
20. At Beauty Pie, we believe that overpaying is officially over. So we'd like to know: What things are YOU 'officially over'? And why?
 Going to fashion shows! So time-consuming for so little reward. These days I'd rather go to an exhibition.  And buying new clothes every season. I'd love a Marfa Stance coat. They're expensive but you can add bits on to them each season - a new collar, or a gilet underneath - and it would last forever.