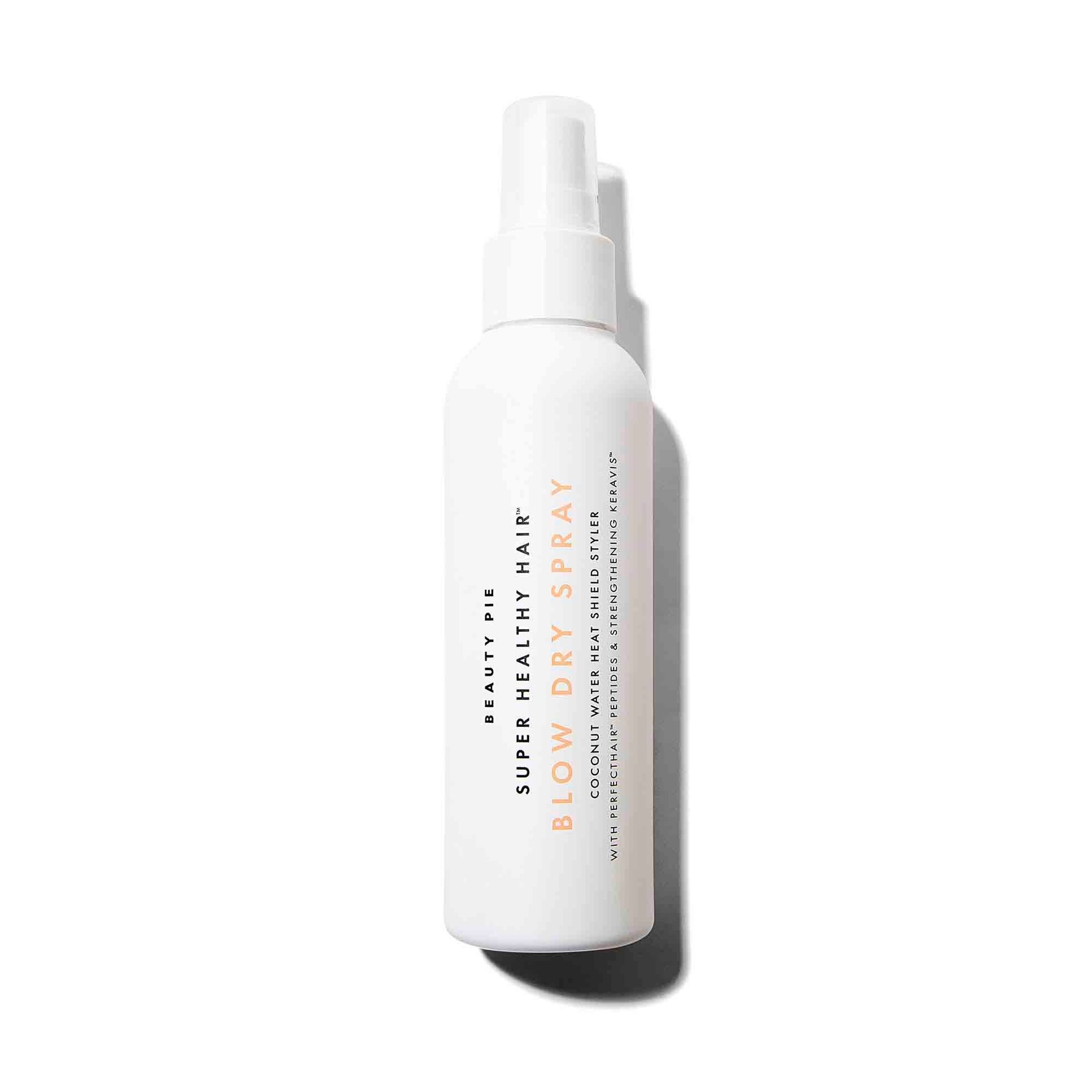 Super Healthy Hair™
Coconut Water Heat Shield Blow Dry Spray
---
This makes every DIY blow dry just brilliant
Ever wanted to hug a bottle of styling spray? Quick-shaping, repairing and shine-amplifying, this superfood hair-strengthening Coconut Water protein spray has an invisible feel and protects fine, weak or damaged hair from blow-drying heat using Keravis™ and Peptides. Use it for a natural, bouncy-body finish and super healthy-looking hair! Vegan. And cruelty-free (of course).
5.07 fl. oz.
Suitable for all hair types, especially over-processed, color treated or chemically-damaged.
---
Highlights
Key Benefit by Ingredient
Keravis™
+ 
To increase hair strength and resistance to breakage.
PerfectHair™ Peptides
+ 
Derived from Pisum Sativum to maximize your hair's volume, increase hydration, smooth (weightlessly), and reduce the visible effects of hair ageing.
Coconut Water
+ 
Contains Electrolytes, Amino Acids, Vitamins and Minerals to replenish hydration, detoxify and fortify.
How to use
Section towel-dried hair and spray lightly from root to tip, then comb or scrunch through lengths before blow drying/styling. Helps protect hair from heat, re-nourishes damaged strands, strengthens and elasticises.
Trial results
We all loved it, and then we asked a group of independent beauty panellists to test it. The numbers are here:
agreed their ‎hair felt immediately protected against heat after using this spray
agreed their ‎hair appeared smoother immediately after using this spray
agreed their ‎hair felt softer immediately after using this spray
agreed their ‎hair appeared shinier after using this spray
Full ingredients list
‎Aqua (Water), Hydrolyzed Vegetable Protein Pg Propyl Silanetriol, Hydrolyzed Pea Protein Pg-propyl Silanetriol, Sodium Benzoate, Fragrance (Parfum), Cocos Nucifera (Coconut) Liquid Endosperm, Potassium Sorbate, Glycerin, Cocos Nucifera (Coconut) Fruit Juice
We're also passionate about what we don't include
No Sulphates, No Parabens, No Hydroquinone, No Benzoyl Peroxide, No Sulphates, No Phthalates, No Triclosan, No Formaldehyde, No Benzophenone, No MIT, No PHMB, No D5, No Cocoamide DEA, No MCT, No Mineral Oil, No Animal Derivatives