What is Glycolic Acid?
Also known as hydroacetic acid or hydroxyacetic acid, Gylcolic Acid is the fastest-acting and probably best-known of the Alpha Hydroxy Acids a group of natural acids found in foods like fruit, milk and - in the case of Glycolic Acid - sugar cane). As the AHA with the smallest molecule, it is the most penetrative, so Glycolic Acid delivers impressive results for radiant, smooth and clear skin.
How does Glycolic Acid work?
In a nutshell, it has an exfoliating action on the skin, meaning it removes dry and dead skin cells, and is an excellent way of resurfacing the skin if you don't want to use a granular scrub. And it really does work. So well in fact that its skin-clearing, glow-boosting results can be a little bit addictive.
Glycolic Acid is a great way of resurfacing the skin without using a granular scrub
So it's a good idea to proceed with caution, introducing one Glycolic Acid product to the face at first, getting used to its effects, and going from there. You may like to start with a daily toner or peeling pads, and then add in a weekly resurfacer like our Fruitizyme Five Minute Facial. And there's always the option of our Dr Glycolic™ Soft Feet 7-Day Peel Socks when dry, scaly feet are in need of a serious sort-out.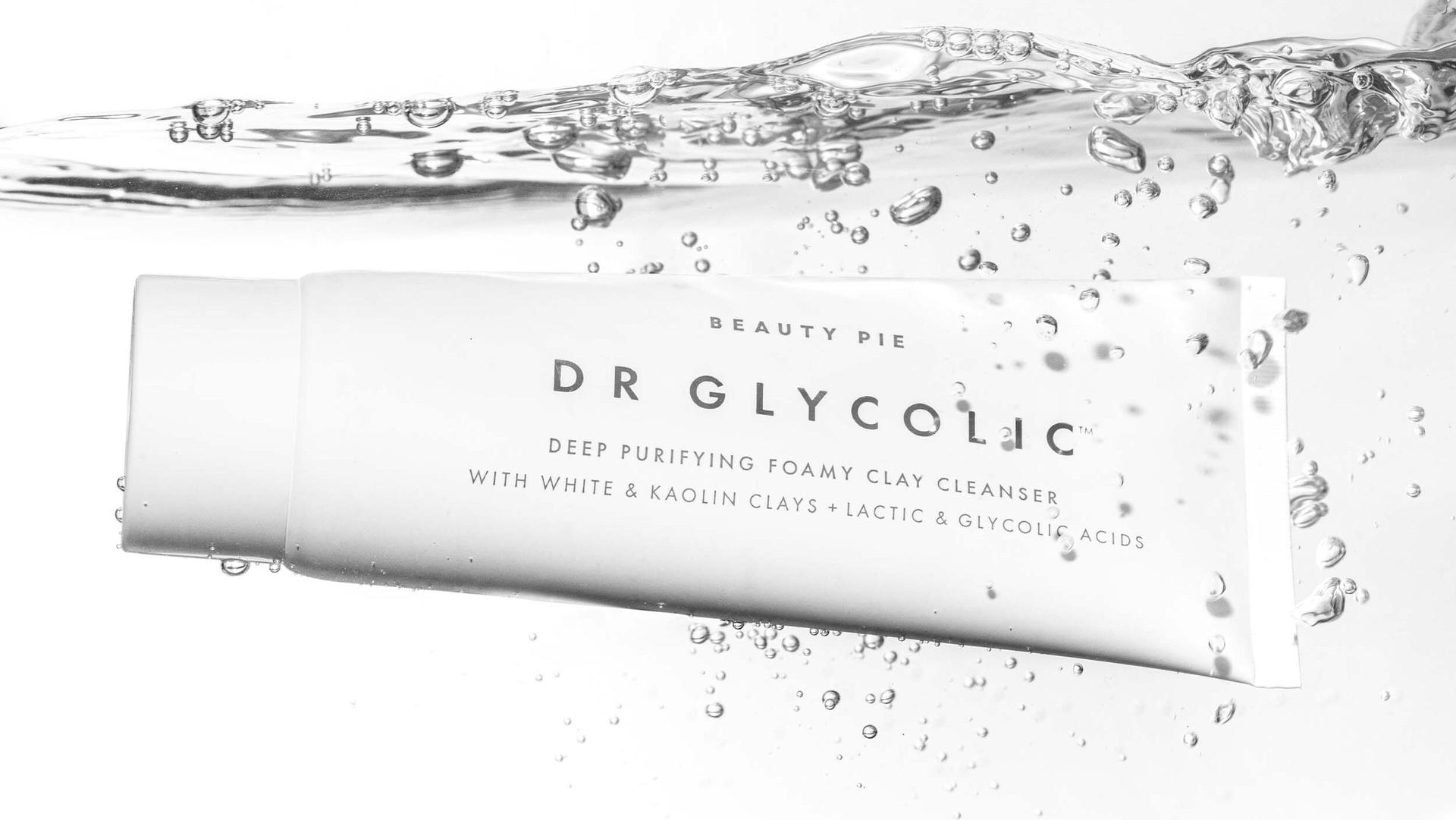 Who should use Glycolic Acid?
Anyone - unless your skin is very sensitive, when you might like to start with another AH (Lactic Acid is often recommended for sensitive skins) and go from there. But there's a common misconception that Glycolic Acid is particularly harsh or irritating to the skin, when in fact, most people don't experience any irritation from using it. And in fact, most sensitive skins can benefit from extra hydration, and one excellent way to do that is to gently resurface the skin, allowing more moisture and nutrients to flood in.
There's a common misconception that Glycolic Acid is particulary harsh or irritating to the skin
If you have very sensitive skin, you may want to stick to a lower percentage, and use a wash-off product rather than something you leave on. BEAUTY PIE's wash-off formulas include the Dr Glycolic™ Five Minute Facial, with dead-cell sloughing Glycolic Acid, powerful Pomegranate Enzymes, gentle Quartz powder, Bamboo scrub grains, purifying Salicylic Acid and antioxidant Raspberry Stem Cells, and the Deep Purifying Clay Cleanser, in which the Glycolic Acid is joined by oil-absorbing Kaolin and Montmorillonite Clays, microbe-fighting Lauric Acid and smoothing Lactic Acid. Perfect for oilier and breakout-prone complexions. And add in something with lots of soothing ingredients like our Happy Face moisturizer or Youth Bomb 360 Radiance Concentrate, too.
Also worth noting is that unlike say Retinol, Glycolic Acid is safe to use when pregnant or breastfeeding.
What percentage of Glycolic Acid should you use?
Most dermatologists will tell you to go no higher than around 10% Glycolic Acid at home. BEAUTY PIE's Dr Glycolic™ Pore-Purifying Glow Toner has 9.2% Glycolic, while the Multi-Acid Micro Peeling Pads contain 5% Glycolic Acid along with other AHAs like Lemon, Bilberry and Orange, too.
Glycolic Acid, unlike Retinol, is safe to use when pregnant or breastfeeding
What's the difference between Glycolic Acid and Retinol, and can you use both?
Another commonly-held myth is that Glycolic Acid and Retinoids can't be used together. They can absolutely both form part of your skincare routine - Glycolic Acid will work on the surface of your skin, while Retinol penetrates deeper down - but they should be used at different times. One option is to use your Glycolic in the morning - perhaps a toner or pads after cleansing - and Retinol at night. And of course, follow with SPF in the daytime, too.
Where should glycolic acid come in your skincare routine?
Glycolic Acid will normally be in a liquid form and sit where your toner traditionally sat in your routine, which is after cleansing and before your serum and moisturiser. It supports the work of the latter part of your routine by removing old skin cells so that the ingredients that come after can get from A to B without any obstructions. As Glycolic Acid is a strong ingredient, it is best used in the evening as an overnight reset for your complexion. It can make skin more sensitive to sunshine, as the skin cells that are brought to the surface are newer and fresher, so make sure you're wearing a broad spectrum sunscreen with at least SPF30 every day to shield your skin from sun damage. 

If you have more sensitive skin, then you might want to use Glycolic Acid in a wash-off product like a cleanser or a mask instead of a leave-on toner. As these products are only in contact with the skin for a short period of time, there's less chance of irritation. A cleanser will give that subtle flash of brightness to the skin, while a mask will provide a quick-fix hit of glow before a big event or whenever your skin is feeling lacklustre. If your skin is very tolerant and used to exfoliating acids, you might be able to include a glycolic acid cleanser, toner and mask within your routine.
Are there any ingredients you can't use with glycolic acid?
If you're using Glycolic Acid, be wary of throwing the kitchen sink at your skin by layering it with too many other active ingredients – ideally,  Vitamin C and Retinol should be applied at a different time to Glycolic Acid rather than one after the other. Both glycolic acid and retinol can make skin more sensitive to the sun, so use both before bed on alternate evenings, or a few times a week each. Vitamin C is a brightening ingredient and a brilliant antioxidant that shields the skin from things like pollution, so needs to be applied in the morning for maximum benefits. Bookend your routine by using Vitamin C in the AM and Glycolic Acid in the PM. And of course - always use a high-factor, broad-spectrum SPF every day. 
As for other acids, you may find that some glycolic products also contain other AHAs, PHAs or BHAs, and these will have been formulated to ensure they work in perfect synergy. Outside of this, proceed with caution when using other AHAs with glycolic acid. (Best-case scenario, you won't see any improvement in the results and worst-case scenario, you'll drive inflammation in the skin.)
The same goes for beta-hydroxy acids, as there's only so much you can exfoliate the skin. If spots and congestion are key concerns for you, consider just switching to a BHA to tackle these. Once your breakouts are no longer active, you can go in with Glycolic Acid to help clear up any marks they've left behind. 
It's not an ingredient, but you also need to be careful with manual exfoliation when using Glycolic Acid. You're already breaking down the bonds that hold onto old skin cells with your AHA, so you'll overdo it by trying to dislodge these with a physical scrub too. If you love the satisfaction of a scrub, that's fine, but do this just once a week rather than every day – maybe as part of your Sunday night treat facial. 
Related Content