What are ceramides?
Ceramides not only help your skin retain moisture and fortify its protective barrier, they keep its appearance firmer and plumper, form 50% of the protective layer of oils and waxes that limit skin moisture loss, are essential for optimal barrier function, and should be added in to optimize every daily skincare routine.
Because age and sun damage reduce the effectiveness of your skin's natural ceramides, without any replenishment, you might notice rougher skin, wrinkles, irritation and redness.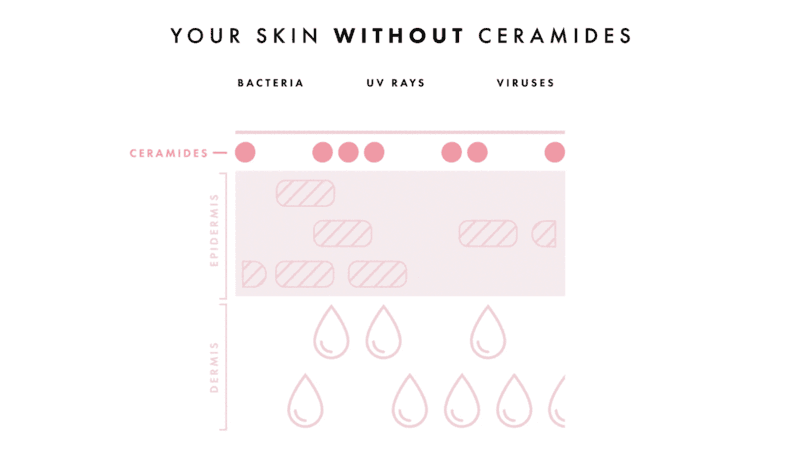 Ceramides strengthen the barrier of your skin
What do ceramides do?
Ceramides work almost like a natural 'cement', restoring and strengthening the barrier of your skin to keep moisture in and pollution and other environmental stressors out. The lipid layer locks in moisture and acts as a barrier against pollution, dehydration and bacteria. When this first line of defence is weakened, the rate your skin ages can increase.
Why use ceramides?
Even more than Retinol, Niacinamide and Peptides, ceramides are an anti-aging powerhouse responsible for supporting the skin's dynamic nature. Around the age of 30 we start to produce fewer ceramides naturally, which is when topically supplementing your ceramides becomes a good idea.
Around the age of 30 we start to produce fewer ceramides naturally
But before that - anyone who wants the 'insurance policy' of creating a strong and healthy skin barrier should consider incorporating ceramides into their skincare routine.
How do ceramides work in skincare?
Since ceramides are naturally-occurring, most skincare products work to support skin's own ceramide production. In fact two pro-ceramides – phytosphingosines and sphingolipids – actually help skin make more ceramides.
Which step of my skincare routine should ceramides come in?
Any of the steps which follow your cleansing step. They work well in moisturisers, like our Happy Face™ Extreme Relief Cica Moisture Cream, and deep-moisture masks like Japanfusion Bio-Ceramide Moisture Mask. They also work well in serums, and are a great addition to Retinol products because they counteract the potent nature of Retinoids by strengthening and supporting skin's barrier.