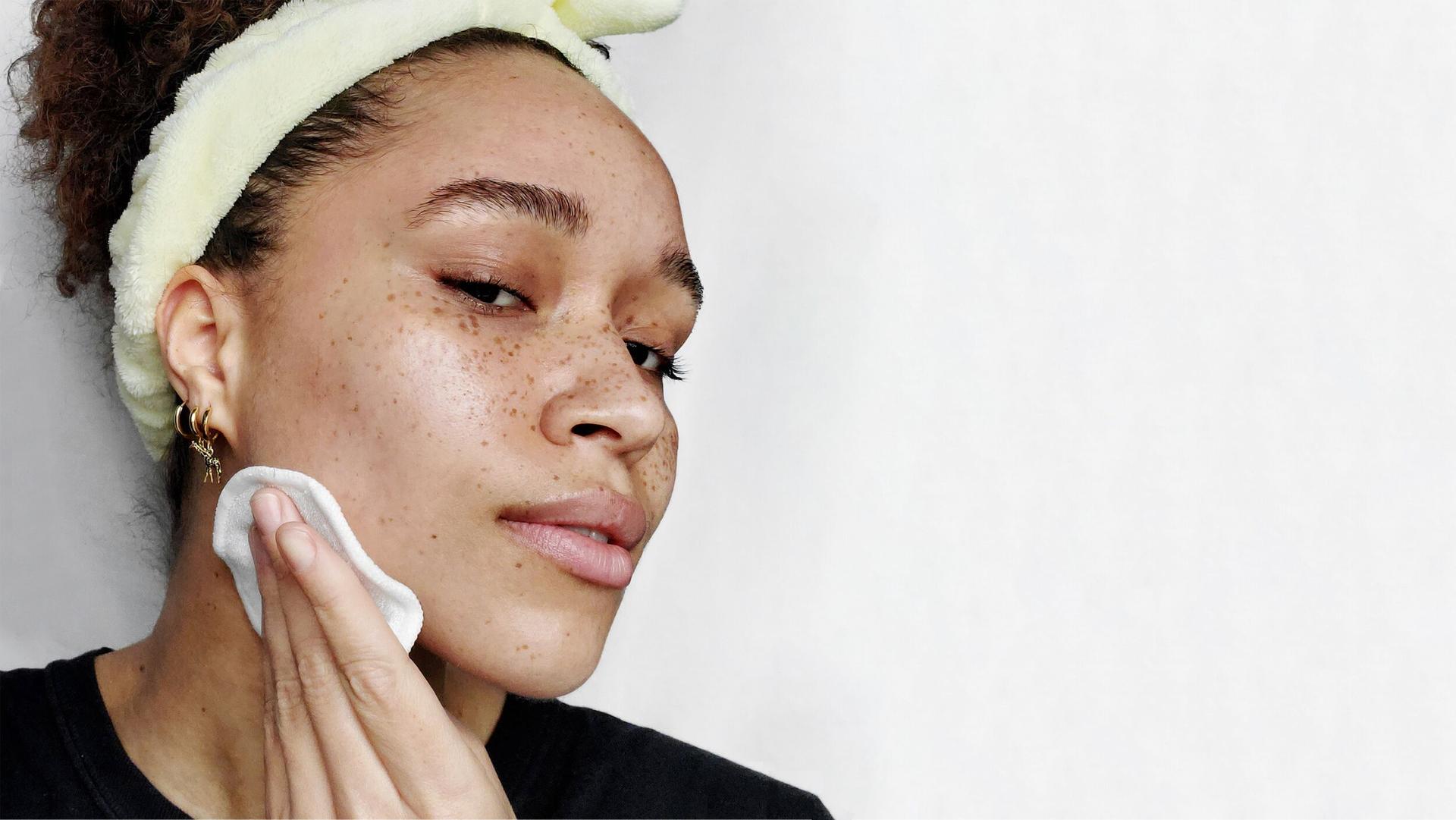 The secret to more luminous, lit-from-within skin? Exfoliation. Ask any dermatologist, Hollywood star, celebrity facialist (or your friend with fabulous skin) and the chances are they'll be exultant about exfoliant.
Alpha Hydroxy Acids (AHAs) are a family of acids that deliver brighter, tighter, smoothed and improved skin which, like all exfoliants, are proven to make an existing skincare routine more effective.
AHAs – like BEAUTY PIE's Dr Glycolic – have proven so popular, the chances are you already use some in your current skincare routine – either alongside (or as an alternative to) Beta Hydroxy Acids (BHAs) or a more traditional 'physical exfoliant' face scrub. And if you don't? Now's the time to start.
AHAs - Your Expert Guide
What are AHAs? 
"AHAs are a group of acid compounds, often referred to as Fruit Acids. The most common ones include Glycolic Acid and Lactic Acid which act as chemical exfoliants. Each Alpha Hydroxy Acid differs in size, and therefore in penetration and potency. The smaller the molecule, the deeper the penetration, and the more effective the results." –Dr. Andrew C Markey MD FRCP Consultant Dermatologist.
Size Matters
At 2 microns, "Glycolic Acid is the smallest (molecularly), penetrates the fastest, and – when balanced with other Fruit Acids and Niacinamide – results can be miraculous!" says BEAUTY PIE Founder (and skincare enthusiast), Marcia Kilgore.

Lactic Acid is 3 microns in size – larger than Glycolic Acid - but less likely to cause irritation on very sensitive skin.
Why should I use AHAs?
Fruit Acids, like Glycolic Acid, suit most skin types but work brilliantly on normal to dry and surface-level skin concerns who exhibit symptoms of dull, dry, flaky skin. 
What are the benefits of AHAs for skincare? 
"AHAs have reached iconic ingredient status because their skincare benefits are two-fold:
Skin Deep - AHAs gently exfoliate the outer layer (the epidermis) resurfacing skin for instant radiance. 

Dermis Deep – they stimulate collagen production in the deep layer (the dermis) so reducing the signs of ageing (fine lines and wrinkles), improving sun damage and hyperpigmentation." – Dr. Andrew Markey.
How do AHAs exfoliate the body?
If you've wondered how to deal with dry skin in summer – think AHAs. Yes, even in bodycare. Proven to smooth and improve rough bumps and 'chicken-skin' (keratosis pilaris) and tackle pigmentation, dryness and ingrown hairs – the best bodycare products take skincare-quality ingredients, and make them work harder. Look for body exfoliators that contain Glycolic Acid – or a combination of AHAs and BHAs (such as pore-cleansing Salicylic Acid) – to help get rid of bothersome bacne too.
Where should I use AHAs in my skincare routine?
How you layer it depends on your chosen formulation (serum, moisturizer etc). New to AHAs? BEAUTY PIE Founder Marcia Kilgore recommends starting with Dr Glycolic Multi-Acid (6.5%) Micro-Peeling Pads: "We source it from the best acid lab in Switzerland. Sweep it across the skin after cleansing and toning – following with a serum or essence, and then your moisturizer."
Exfoliants - like AHAs - enhance the effectiveness of the other products in your routine too

Dr Andrew Markey, Consultant Dermatologist
How often should I use AHAs?
Our Dr Glycolic Multi-Acid Micropeeling Pads are like cotton pads that are already saturated with toner.
AM or PM. Most dermatologists recommend using AHAs three times per week, upping usage when skin needs a glow up. "Dr Glycolic Multi-Acid (6.5%) Micro-Peeling Pads can be used twice a week, for those with combination or dry skin, and daily for those with oily skin and/or a troublesome T-zone," says Marcia. "Work up to the Dr Glycolic Pore Purifying Glow Toner, which is a little stronger, a little faster, and has a little more 'pow'."
How long until I'll see results?
You'll start to see results within minutes of your first application, but 'peak' results, such as anti-ageing benefits, may take 12 weeks or more.
For skincare that works...
"I've been using BEAUTY PIE's Glycolic Acid Pads followed by the Micro Peeling Super Drops and Retinol Super Booster in the evening and my melasma has definitely faded. I use the Vitamin C capsules in the morning too. I went on holiday and the melasma flared up, so I started with this regime. The first picture [on the left] was the beginning of February. The second picture [on the right] is from July!" –Marilouise Bree, BEAUTY PIE member
Five months difference
Are AHAs safe to use in pregnancy?
Most dermatologists recommend switching to a lower percentage AHA (like Lactic Acid or Dr Glycolic Multi-Acid (6.5%) Micro-Peeling Pads) during pregnancy and nursing. 
Are there any side effects? 
"With any acid, you'll feel a slight sting on application, but once the initial sensation subsides, the results are worth it," says Marcia. "If you're sensitive or dry, or on prescription keratolytic medication* (that peels your face), start with the Dr Glycolic Multi-Acid (6.5%) Micro-Peeling Pads or Superdose™ C C- Suite Rapid Action Power Brightener."
How do I combine AHAs with other ingredients?
For optimum skincare layering, AHAs – like Glycolic Acid – work best with:
Other AHAs

BHAs (Beta Hydroxy Acids)

PHAs (Polyhydroxy Acids - the 'cousins' of AHAs)

Hyaluronic Acid

Niacinamide
"Exfoliating more, while essential in warmer weather, can lead to skin dehydration as if you're removing your skin's barrier, so can be more susceptible to moisture leaving your skin. Try layering a superlight Hyaluronic Acid into your routine too", says Marcia Kilgore, BEAUTY PIE Founder.
Exfoliating more, while essential in warmer weather, can lead to skin dehydration as if you're removing your skin's barrier

Marcia Kilgore, Beauty Pie Founder
Can Acids and Retinol be used in the same skincare routine?
Dermatologists remain divided. While AHAs and BHAs are safe to combine with over-the-counter strength Retinol, general consensus is to avoid mixing if you have reactive, sensitive skin. "Retinoids and Acids are irritants, and as such overuse can make irritation more problematic," says Dr. Andrew Markey. "However, Retinoids used in the right way, with the right strength and the right routine can safely be used with Acids, particularly Lactic Acid. There is even good evidence that combining them works well."
"Pick ONE active ingredient for your regular skincare routine - i.e. Retinol – and the other – i.e. Glycolic Acid – for a weekly (or monthly) skincare treatment", - Dr Andrew Markey.
Footnotes
Reviewed by Consultant Dermatologist Dr Andrew C Markey MD FRCP.
Related Content